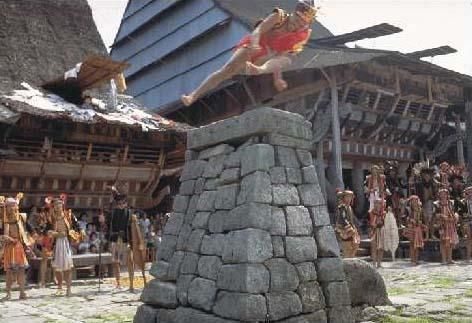 Ya'ahowu, that said the typical greeting when meeting someone Nias. Nias Island with an area of ​​5318 square kilometers holds some mysteries and uniqueness of its natural beauty and beaches so mesmerizing. With the variety of its natural beauty, the potential for Maritime Tourism in Nias Island in almost a place known as the 100 islands.
Cultural tourism is also not less interesting for our visit. Traditional villages on the island of Nias, which still keeps the number of speakers of the cultural heritage and history can be a primary choice. In addition to running the economy, tourism activity is able to return the love of the traditional values ​​passed down by their ancestors.
To reach the tourist areas on the island of Nias, tourists can choose sea and air. If the air lines, flight to Nias are now quite a lot. There are several airlines serving the route Medana € "Nias and Niasâ €" Medan.
Long flight Medana € "Nias after taking off from Polonia Airport and landed at Mount Sitoli Binaka about 55 minutes. So instead of Binaka to Polonia mileage is also 55 minutes. When choosing sea transport, can be done with KMP ride from Sibolga to Gunung Sitoli long drive 8-10 hours. If the purpose of the South Nias mean having to travel again through the land route with the distance of 2 to 3 hours.
Nias regency or Gunungsitoli also has several attractions that are worth visiting, the Muara Beach Beautiful, Holi'amaeta So'arowig, Carlita beach, beach Laowomaru, Laowomaru caves, beaches Mother, Miga, Waterfall Onowaembo, and Directions Namohalu.Â
While the sights, especially in South Nias regency, among others Gomo (historic heritage items [megalithic]), beach Lagundri Sorake, Moale Beach, Mount Lolomatua, Hombo Stone and traditional house in Bawomataluo, Batu Islands and Pulau Telo.Â
While that was in North Nias, among others Asi walo walo or Beaches, Waterfalls Luaha Ndroi, Turogaloko Beach, Lahewa, Turodawola Coastal District Afulu, Toretolo Coastal and Island Makora. As for the West Nias, including Asu-Hinako Islands and Beaches Sirombu.
With so many sights and cultural diversity on the island of Nias, is not wrong if it is equated with the island of Nias island. Infrastructure issues are identified where Bali is much more complete. So, what are you waiting immediately visit to the island of Nias! Â Ya'ahowu.